Klass Radio 92.9 Fm is a full commercial broadcasting facility located at Wilmot Estate Rock Farm, Anguilla. This newly launched station is the brainchild of f seasoned Veteran Broadcaster Abner Brooks Jr. AKA Dj Hammer, who's involvement in radio goes back to the late 1980's. The Station first took to the airwaves on February 1 2006. Ever since it's inception, it has been on the fast track to becoming a household name at home and abroad. Our programming format heavily targets the young, middle aged and senior listening audience/fan base. We pride ourselves in being able to deliver a unique blend of music, news and any other important information to the general public. The interaction of our very entertaining, but professional crew of Disc Jockeys will keep you locked in 24/7. We now Officially welcome you to the online home of Klass 92.9FM, Anguilla's freshest sound.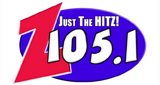 Z105.1 Just the HITZ
Country:
Anguilla
Z105.1 FM is all about the Classic Hits. Broadcasting from a beach with a bottle of rum and an iPod full of Classic Hits, Z105.1 is guaranteed to make you smile and sing along with every song. Join us on air at 105.1 FM or online at www.z1051.com. Z105.1 FM is a service of the Caribe Broadcasting Network NV.